As part of international efforts to achieve sustainable development, biodiesel production from raw materials such as used cooking oils and fats is becoming increasingly important. However, not every process is equally suitable for biodiesel distillation. In this article, we compare the two methods and highlight the main advantages of the short-path evaporator in terms of effectiveness, flexibility, cleaning, as well as operating and investment costs.
Short-Path Distillation: Single Stage Process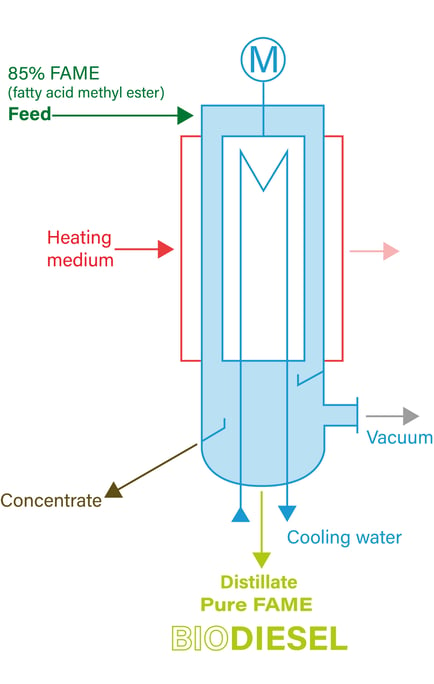 The short-path evaporator combines a thin-film evaporator and condenser in a single apparatus. It consists of a vertical body with an external heating jacket, a rotor with self-adjusting wiper elements, and an internal condenser. As a result, it is possible to process different viscosities through special built-in components and thus process more varied products.
The internally rotating rotor system distributes the mixture of substances fed in via the wiper system on the heated evaporator wall, in order to evaporate the low-boiling components. The vapours are condensed spontaneously in the built-in condenser, are liquefied again and discharged as distillate. High boiler droplets do not reach the condenser thanks to efficient droplet separation in the apparatus.
The non-condensed product vapours and inert gases enter the vacuum system through the vacuum nozzle via the cold trap. The non-evaporated, liquid product portion flows as film into the lower section of the short-path evaporator, is collected in a tray and leaves it after a short time via the product outlet.
Rectification: Multi-stage process

In the rectification process, liquids with two or more components are separated through multiple evaporation and condensation stages. The repetitive processes take place in a vertical rectification column. As a result, the rising vapor stream and the down-flowing condensate stream are in constant material and heat exchange (countercurrent principle).

By supplying thermal energy, the liquid mixture which is to be separated, is brought to boiling point in the re-boiler at the bottom of the column. The more volatile components, evaporate, rise in the column and liquefy in the downstream condenser.
In contrast to the short-path evaporator, only a portion of the overhead condensate is withdrawn and collected. At the same time, the rest is fed back into the column head as reflux.

Built-in components in the form of structured and non-structured packings are used to intensify the exchange between gas and liquid. These are usually various metal fabric or plastic rings to increase the surface area critical to the separation process.
Advantages of short-path technology compared to rectification


Rectification columns are a tried-and-tested technology for producing biodiesel of specification-compliant quality. Short-path technology also offers the possibility of achieving optimum quality even with high viscosity and heavily contaminated products such as biodiesel while conserving resources and products.