Übersicht
Einsatzgebiete
Alkohol / Wasser
Lösemittel / Wasser
Lösemittel / Fettsäuren
Trichlorethylen / Öl
Lösemittel / Wasser aus Spinnbad für Faserindustrie
Alternative Treibstoffe
Methanolabscheidung aus Kondensat der Eindampfanlage
Methanol / Wasser
Ethanol / Wasser
Aceton / Wasser
Butylacetat / Wasser
Butylalkohol / Wasser
Glycerin / Wasser
Milchsäure / Wasser
uvm.
Vorteile
kontinuierliche Betriebsweise
energetisch günstiger als eine Destillation
platzsparend
technisch weniger aufwändig
Energieoptimierungsmöglichkeiten
Mehrstufige Anlagen
Mechanische Brüdenverdichtung
Thermische Brüdenverdichtung
Kolonneneinbauten
Packungen
Böden
Füllkörper
Reboiler
Fallfilmverdampfer
Dünnschichtverdampfer
Zwangsumlauf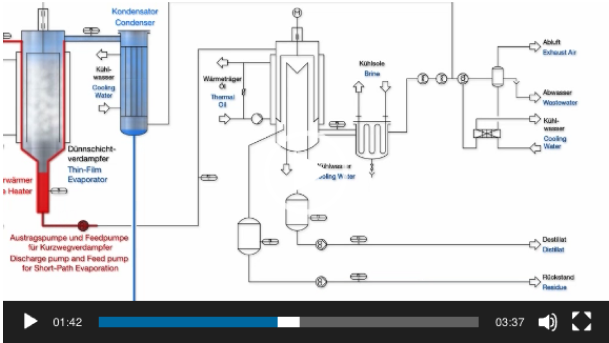 The product is distributed continuously over the entire circumference of the heating wall. Using special wiper elements the wall contact is renewed constantly and the product stream simultaneously transported. The blades do not touch the heating jacket, but prevented crusting or clogging of the heating surface by massively built, arranged with defined gap wiper elements.