Overview
Functionality
The thin-film evaporator consists of a cylindrical, mechanically precisely machined heating surface with external heating and an internal rotor. The substance mixture is distributed over the circumference of the head by means of a rotating distributor system and flows downwards on an evaporator wall heated from the outside with steam or thermal oil. In this case, a uniform distribution and a liquid film is mechanically generated by means of wiper elements. Vortexes form highly turbulent heat transfer zones on the wiper blades, which, in addition to the good heat transfer achieved, also ensure a constant renewal of the product coming into contact with the heating surface. The result is a gentle evaporation process, which ensures product quality through the shortest possible contact with the heating surface and thus minimized temperature stress.
Field of Application
Our thin-film evaporators can be used both for concentration and for the purification of valuable substances. Exactly adapted to your requirements, the devices are particularly suitable for the following service areas:
Concentration of temperature-sensitive substances

Concentration of high viscous

substances

Concentration of structurally viscous

substances

Distillation of low boilers valuable substances

Purification by distilling off valuable products from high-boiling components

Special applications such as Reboiler for rectification plants




Advantages
Individual selection and adaptation of the optimal rotor type

Short residence time of the product

Gentle evaporation

Good heat transfer even with high viscous or heavy soiled media

No additional lubrication required

Reduced maintenance

Short downtime and assembly time during maintenance / inspection

Reduced risk of corrosion by using suitable materials

Turbulent heat and mass transfer through the thin, constantly renewed film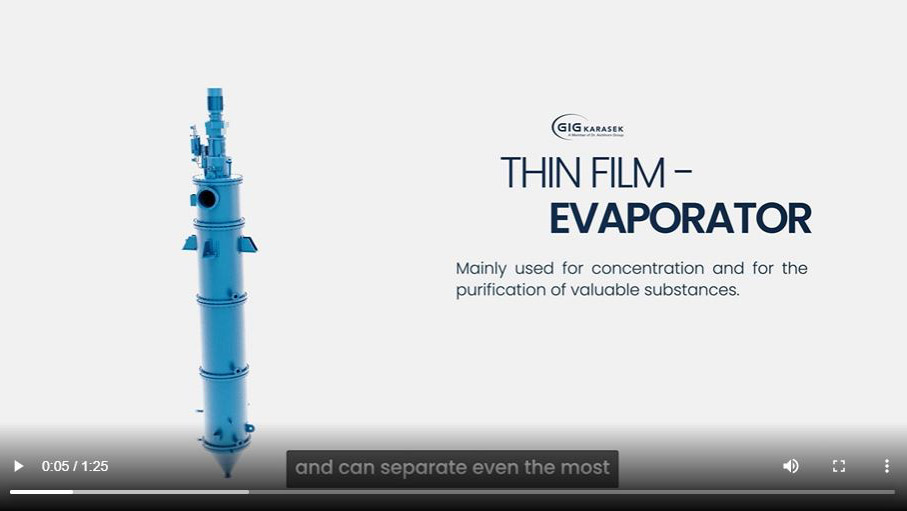 Temperature Range: ≤ 390°C
Vacuum: ≥ 1 mbar abs.
Feed: 10 kg/h to 20.000 kg/h
Viscosities: up to 10 Pa.s (in special cases up to 1000 Pa.s at 20°C operating temperature)