Thin Film Dryer - horizontal & vertical
Overview
Function
The product is continuously distributed over the entire circumference of the heating wall. With the help of special wiper elements, the wall contact is constantly renewed and the product flow is simultaneously transported further.
The rotor blades do not touch the heating jacket, but prevent encrustation or blocking of the heating surface by means of solidly constructed wiper elements arranged with a defined gap. This wiper design enables liquid feed products to be dried up to powder form.
The various units can be used individually or in combination, allowing the operator to benefit from the advantages of different evaporator designs.



Applications
The Thin Film Dryer is mainly used in the waste industry, chemical, pharmaceutical and in the food industry. Products such as:
Sludges (sewage sludge, process sludge, industrial sludge and muncipial sludge)
Chemical products (preproducts and intermediates)
Suspensions
Pastes
Moisture solids
Saline solutions
Products of fatty acid industry
Advantages
Granted high dryness

Minimal product loss

Product protection and purity

Gentle evaporation due to short residence and permanent product circulation

No deposits on the heating surfaces due to mechanical cleaning

Reduced maintenance through clever design in the bearing and mechanical seal area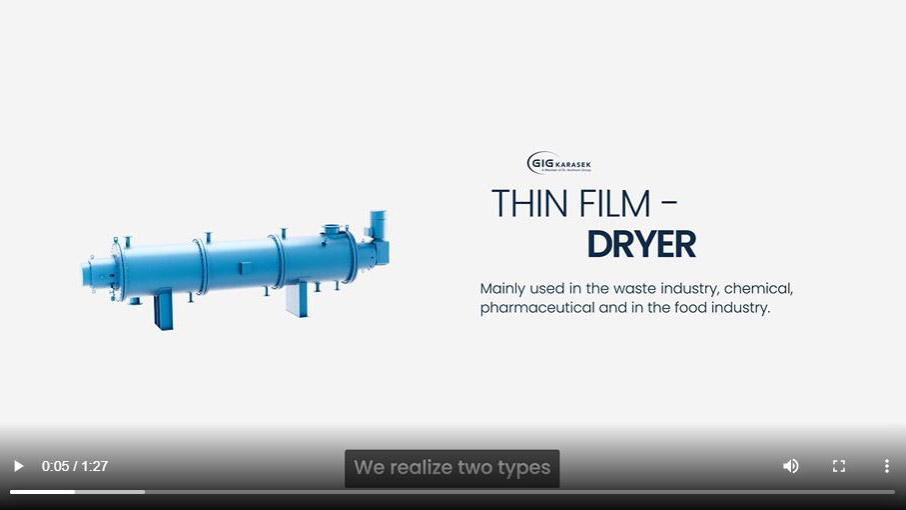 Temperature Range: ≤ 390°C
Vacuum: ≥ 1 mbar abs.
Feed: 20 kg/h to 15.000 kg/h
Viscosities: up to 10 Pa.s (in special cases up to 1000 Pa.s at 20°C operating temperature)