Overview
Application
Alcohol / water

Solvent / water

Solvents / fatty acids

Trichlorethylene / oil

Solvent / water from spinning bath for fiber industry

Alternative fuels

Methanol separation from condensate of the evaporation plant

Methanol / water

Ethanol / water

Acetone / water

Butyl acetate / water

Butyl alcohol / water

Glycerin / water

Lactic acid / water

and much more

.
Advantages
continuous operation

energetically more favorable than a distillation

space-saving

technically less expensive
Energy optimization options
Multi-level systems

Mechanical vapor recompression

Thermal vapor recompression




Reboiler
falling film evaporator

thin-film evaporator

forced circulation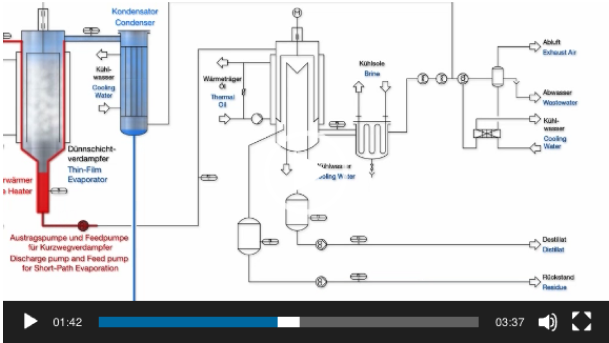 The product is distributed continuously over the entire circumference of the heating wall. Using special wiper elements the wall contact is renewed constantly and the product stream simultaneously transported. The blades do not touch the heating jacket, but prevented crusting or clogging of the heating surface by massively built, arranged with defined gap wiper elements.